If the last two years throughout a pandemic have taught us anything, it's that our health, personal well-being, and fitness should be important to us. If you're considering taking your health and fitness that step further and building a home gym or opening a gym, you might be interested to learn more about shipping container gyms as a viable option.
Shipping containers can be converted into a home gym as well as a commercial gym. Shipping containers are a durable option for gyms because they are cost-effective, easy to customize, and their portability means you can have your gym container delivered, almost fully ready to go, and placed right next to your house.
Have you recently seen shipping containers used more often for numerous different projects? Gone are the days that steel containers are only used for transporting goods and housing tradesmen on their work breaks.
[toc]
New and used shipping containers are being converted and renovated into DIY projects all over the world because of their countless benefits. Read on to find out how you can start your DIY containerized gym unit today!
What are Shipping Container Gyms?
A shipping container gym is a type of gym designed and built from a steel shipping container. Businesses and homeowners alike are choosing the perfect solution of using containers to build their custom dream gym.
Shipping container gyms have the following advantages:
Cost-efficient.
Opening or building a gym can cost anywhere from US$50,000 and higher, depending on the size and how many people you intend to host in the gym. Businesses providing gyms for their employees might need to consider larger gyms to ensure the safety and space for their employees.
You might not need a permit.
Because shipping containers are portable and not technically a permanent dwelling, you may not need a costly permit to have gym containers.
It's always best to check with your local council and building authorities to ensure you're within your rights and within the legislation of your area rules and regulations.
Easy access and security.
Storage containers have easy access with large doors as well as extremely secure steel, lockable doors. Your shipping unit can be designed in a way that stores all of the gym equipment overnight and by day is open and makes use of the surrounding outdoor space.
Time-efficient.
Not only are you saving on money overall from possible permits, building purchases, renovation, clean-ups etc, you can also avoid how time-consuming the process of building and fitting out a gym can be.
Imagine having your new gym ready in a week. That's what you can expect with proper planning and preparation when you choose to build your gym with shipping containers.
Container Gym Ideas and Features
Can't picture doing a workout in your home gym or business gym in a steel container? Take a look below at some of these gym container ideas to get yourself a good idea of what your complete portable gym could look like.
This type of gym could work well for businesses and home gyms. Simple, having both long doors able to open for an open outdoor type gym with slight cover.
These containers situated right next to each other have used each container for each type of workout option. One for weights, one for cardio workouts, etc. Then the weights are stored inside the secure storage unit when not in use.
If you're focused on space efficiency, here's an option you might find slightly more expensive because you'd need to have four containers delivered, the floors removed and the containers stacked. But as you can see by the picture, it's doable.
You could have two separate areas for different types of workouts and include a floor section for small classes like kickboxing, cycling, dancing, yoga.
Many containers are used purely for the storage of gym equipment. Using the inside to store the equipment and using the outside as an outdoor gym. You can install outdoor equipment like bars and railings to optimize the uses and space of the container and really get your money's worth of your container property.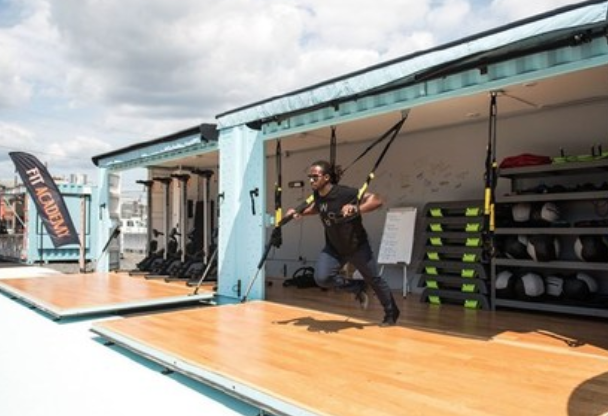 As a business or company, you might find that your employees are asking more questions about their mental wellbeing and how you as a company can create the ideal workplace for them. Send the right message to employees and members of your business and consider a gym for their mental and physical health.
Maybe your car park has enough space to contemplate placing and designing a semi indoor-outdoor shipping container gym in the corner. Treat and deck out the floors, place the equipment inside and organize privacy screens.
Small and simple yet stylish home shipping container gym. More than enough room to place all the typical gym equipment you need for a well-functioning gym.
Typical Container Gym Sizes
Storage units typically come in 4 different sizes and can either be bought brand new or as used and recycled containers. If reducing, reusing, and recycling is something you're striving to launch in your lifestyle for the sake of the planet, you might consider buying a used container.
Used containers work out much cheaper but might need a little more work in the renovation and construction side of things. If purchasing brand new containers, you can have your container custom made with specifications so your gym is ready to be set up pretty much as soon as it's delivered to your address.
When it comes to container gyms, 8ft, 10ft, 20ft, and 40ft are the usual sizes, although 8ft and 10ft containers are limited in supply. Ranging in prices from as little as US$1,500 up to approximately US$9,900.
FAQ
Is it cheaper to use shipping containers to convert space into a gym?
Yes, it is typically cheaper to build a gym with shipping containers. Pricing will depend on the size, how many containers you'll need, how much equipment you plan to store, and whether it's for business or home gym purposes.
Is there enough airflow in shipping container gyms?
The doors can be opened wide enough to make the gym a type of indoor/outdoor space for your workout. Shipping container gyms are easily adaptable and can have air conditioning units installed easily.
How can I create a large enough gym space for a bigger company?
Shipping containers can be ordered to specific sizes for those who are wanting to create a more optimized gym space. Units can be placed next to each other, floors and walls can be removed. Want to build higher? That's not an issue as shipping containers can be securely stacked on top of each other to create a multiple-story gym design.
Conclusion
Whether you're considering a small or large gym for workout options like weight lifting, yoga classes, fitness classes, or personal gym exercises, a shipping container could be your answer. Save on time, costs and tools with this portable, sturdy, and durable alternative option.